Harold Schiffman (b. 1928; Greensboro, North Carolina) has composed in virtually all media. His commissions include those from such diverse groups as the Tallahassee Symphony, the International Trombone Association, the Apple Trio, the Concertino String Quartet, the Mallarmé Chamber Players, and the University of North Carolina at Greensboro School of Music, as well as from a number of individuals including conductor Richard Burgin, flutist Albert Tipton, soprano Janice Harsanyi, pianist Jane Perry-Camp, and pianist/conductor Max Lifchitz (for North/South Consonance). The North Carolina Symphony and the ARTEA Chamber Orchestra of San Francisco, among others, have premièred his music.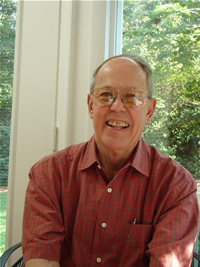 Harold Schiffman at home
Tallahassee, Florida
(5 September 2005)
In January 1981, New York's Alice Tully Hall, Lincoln Center, was the site of a twenty-five year retrospective of Mr. Schiffman's compositions, with the performance of both solo and chamber works there. Then in November 1992, the University of North Carolina, Chapel Hill, honored him with an all-Schiffman concert of performances ranging from large ensemble to solo. North/South Consonance celebrated Schiffman's seventieth birthday with a 1998 New York performance by Jane Perry-Camp of excerpts from Spectrum, My Ladye Jane's Booke (1992), which had received its complete première in November, 1994, his seventy-fifth in 2003 with a program of his music in Weill Recital Hall at Carnegie Hall, and his eightieth in 2008 with a program of his works at The Gilder Lehrman Hall at The Morgan Library & Museum in New York City. In the same year, the University of North Carolina at Greensboro School of Music presented a program of Schiffman's music featuring the North Carolina première of Alma (2002), a cantata for mixed chorus, mezzo-soprano solo, and orchestra. In June, 2000, Extravaganza (1998) for three pianos, twelve hands, was the featured work at the University of North Carolina, Greensboro, Focus on Piano Literature 2000. Other recent world premières include Alma (mezzo-soprano Nadine Cheek Whitney, The Florida State University Philharmonia, The University Singers, Alexander Jiménez, conductor; April 15, 2005, Tallahassee, Florida); Concertino for Flute and String Orchestra (2004) (Lisa Hansen, flutist, the North/South Chamber Orchestra, Max Lifchitz, conductor; New York, New York, January 9, 2005), and the song cycle Blood Mountain (2007), Gayle Seaton, soprano, and Jane Perry-Camp, pianist, New York, New York, March 9, 2008. Alma received its international première October 16, 2008, in Győr, Hungary, by the Győr Philharmonic Orchestra, the Hungarian National Choir, and mezzo soprano Katalin Halmai, with Mátyás Antal conducting. In conjunction with that première the City of Győr honored Harold Schiffman with its silver medal and a certificate from the Mayor in appreciation of the composer's contributions to the cultural life of the City.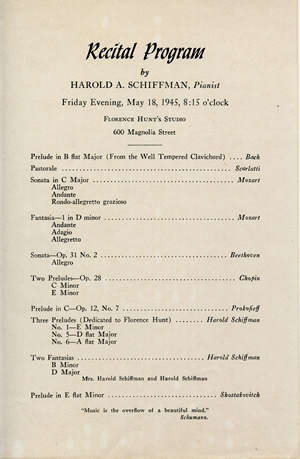 Harold Schiffman's 1945 High School Senior Recital
program, Greensboro, NC, included several of his
own compositions: Three (of Six) Preludes
(Dedicated to Florence Hunt) and Two Fantasias.
Note: The location of the scores of the Two Fantasias
remains unknown, if the scores still exist.
The scores of the Six Preludes ("Opus 10") (1944),
however, have been found.
Studio of Miss Florence Hunt, Greensboro, North Carolina
(18 May 1945)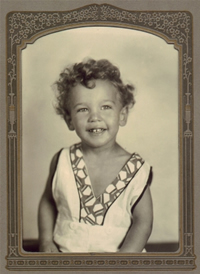 Harold Schiffman at age 2
Greensboro, North Carolina (1930)
Photograph by Gonville d´Ovies
In addition to performances in the United States, Mr. Schiffman's music has been presented in Europe, Latin America, and the Far East. His publishers include Associated/G. Schirmer, New York; Robert King (Alphonse Leduc, Paris); Southern Music Co., San Antonio; Columbia Music Co., Chapel Hill; Harpa Hungarica, Bloomington; and Andres Editions, Tallahassee. He is a member of ASCAP. Schiffman's symphonic, choral, chamber, and solo compositions appear on recordings issued by North/South Recordings (N/S R 1050, 1047, 1045, 1039, 1037, 1035, 1021, 1013, 1009, and 1001), Centaur (CRC2204), and Amoris International (AISCVII). The six most recent of these CDs include his cantata Alma (2002), Prelude and Variations (1970), and Chamber Concerto No. 2: In Memoriam Edward Kilenyi (2000); Concertino for Oboe and Chamber Orchestra (1977); his complete string quartets recorded by the Auer Quartet, Concertino for Flute and String Orchestra (2004), Concerto for Violin and Orchestra (2006), Double Concerto for Horn, Bassoon and String Orchestra (1992), Concerto for Violoncello and Orchestra (1997), his Symphony No. 2: Music for Győr (2008), Ninnerella Variata (1956), Variations on "Branchwater" (1987), Blood Mountain Suite (2008), and Overture to a Comedy (1983).
Mr. Schiffman received his education at The University of North Carolina at Chapel Hill, The University of California at Berkeley, and The Florida State University, Tallahassee. His principal composition teacher was Roger Sessions with whom he studied at the University of California, as well as privately in Berkeley and again later in Princeton, New Jersey, following three years service (1951-54) in the U. S. Army. In Tallahassee, a further influential mentor was Ernst von Dohnányi. Appointed to the faculty of the Florida State University School of Music in 1959, Harold Schiffman retired from the position of Professor of Composition in 1983 and was designated Professor Emeritus in 1985. He was founding director of the Florida State University Festival of New Music in 1981.
February, 2009